Amazing Art Collection Discovered/ National Treasure in Public View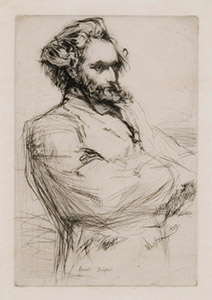 Portrait of Drouet Drypoint etching, 8 ¾" x 6"
by James Whistler
A while back I had heard about a portraiture print collection at McHenry County College in McHenry IL, West of Chicago an hour or so.  When I stumbled upon it I had no, I mean NO idea of the hundred plus treasures inside.   I'm talking Warhol, Picasso, Rivera and my new now favorite, Jack Coughlin.
The Collection was a gift from Charles Liebman and the late Mary Liebman.  These local collectors showed great passion in there collection for not only the art of printmaking, but for those artists who through prints, captured important faces throughout history, especially in the art world.
The Collection is housed in the College Library, filled with students who are surrounded by unimaginable treasures.  Leaving Amazed, I felt like I had just discovered my own National Treasure.

I have below included a link to the college website
http://www.mchenry.edu/artgallery/permanent.asp